New IPG Deputy Editors Announced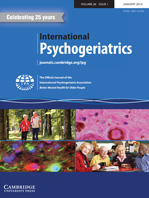 Dear Colleagues,
We are pleased to share the following announcement regarding our flagship journal, International Psychogeriatrics:
As you know, our journal has made tremendous progress in recent years, and last year, it achieved the highest Impact Factor in its history. The entire Editorial Board worked together as a team, and we are most thankful to the three Deputy Editors: Henry Brodaty, MD; Gill Livingston, PhD, and Kostas Lyketsos, MD.
At the same time, there has been a growing global movement to bring in more diversity in leadership positions in organizations, especially international ones. In that spirit, the IPA Board of Directors proposed a few months ago a change in the Deputy Directors of the International Psychogeriatrics, so as to increase diversity in terms of gender, race, ethnicity, and geographic representation.
Accordingly, we sent out an announcement seeking applications for these positions. We received 10 outstanding nominations. After careful consideration, the following three distinguished psychogeriatrics experts were chosen as Deputy Editors for the next three years:
Liat Ayalon, PhD
Professor and Deputy Director, Head of the Retraining program, School of Social Work, Bar Ilan University
Ramat Gan, Israel
Ana Luisa Sosa Ortiz, MD, PhD
Professor of Cognitive Aging and Dementias, Universidad Nacional Autónoma de México (UNAM)
Mexico City, Mexico
Huali Wang, MD, PhD
Professor and Chair, Clinical Research Division, Director, Dementia Care & Research Center, Peking University Institute of Mental Health
Beijing, China
Steve Arndt, PhD, Professor of Psychiatry and Biostatistics at the University of Iowa, Iowa City, USA, who has done an incredible job as the Statistical Editor, has agreed to continue in that role for the next three years.
All of these senior editors are full Professors at major universities, with superb records of publications and grant funding. Please join us in congratulating these wonderful colleagues.
We want to thank you for your support, and wish you all the best.
Dilip V. Jeste, MD
Editor-in-Chief, International Psychogeriarics
William Reichman, MD
President, International Psychogeriatric Association