AAIC 2018 Review
Review: A report on Alzheimer's Association International Conference (AAIC) 2018
by Tzung-Jeng Hwang, MD, PhD; IPA Bulletin Editor
Department of Psychiatry, National Taiwan University Hospital, Taiwan
The 2018 Alzheimer's Association International Conference (AAIC) was held at McCormick Place, Chicago in July this year. It is the world's largest meeting about dementia, with the main goal of advancing science, ranging from basic research to personalized care. Once again there were more than 90 sessions, over 1,500 posters and 6 pre-conference workshops. A total of more than 5,000 participants, from at least 70 countries around the world, attended the meeting. The IPA also took this opportunity to set up a booth, communicating with vast numbers of attendees from related fields.
One of the Professional Interest Areas (PIAs) which may be most interesting to IPA members is the Neuropsychiatric Syndrome PIA. Several IPA members are the opinion leaders of the PIA, such as Professors Sano, Cummings, Mintzer etc. This year, the Neuropsychiatric Syndrome PIA hosted a variety of activities to discuss the measurement and treatment of agitation, apathy, psychosis and other related issues. The new concept of mild behavioral impairment still attracted many researchers and clinicians to learn how this mild form of neurobehavioral symptoms can help identify early potential problems and lead to early intervention. The 2014 IPA criteria of agitation was frequently mentioned during these activities, showing the important contribution of IPA to this field. Echoing this trend of development, our IPA president, Dr. Mary Sano, published a key paper ("Identifying better outcome measures to improve treatment of agitation in dementia: a report from the EU/US/CTAD Task Force") in 2018 with 6 major recommendations, including operationalized agitation criteria, combining clinician -and caregiver- derived outcomes, using global ratings to define clinically meaningful effect, improving the accuracy of caregiver reports, employing emerging technologies to collect real-time data, utilizing innovative trial design, and increasing the use of biomarkers. Critical questions include how to define these specific conditions, how to select instruments to measure symptoms, and whether the best approach is to define, diagnose and treat symptom clusters or comprehensive conditions, etc.
In fact, IPA has been a leader in developing definition and advancing understanding of NPS in AD and other dementias. The groundbreaking concept of Behavioral and Psychological Symptoms of Dementia (BPSD) was proposed by IPA experts after consensus meetings in 1994. Over the years, expert consensus meetings have been conducted about BPSD (twice), Lewy Bodies, Vascular Dementia, Mild Cognitive Impairment, etc. Currently, IPA plans to develop definitions of and metrics for the full range of neuropsychiatric symptoms, which include agitation, mood, psychosis and sleep.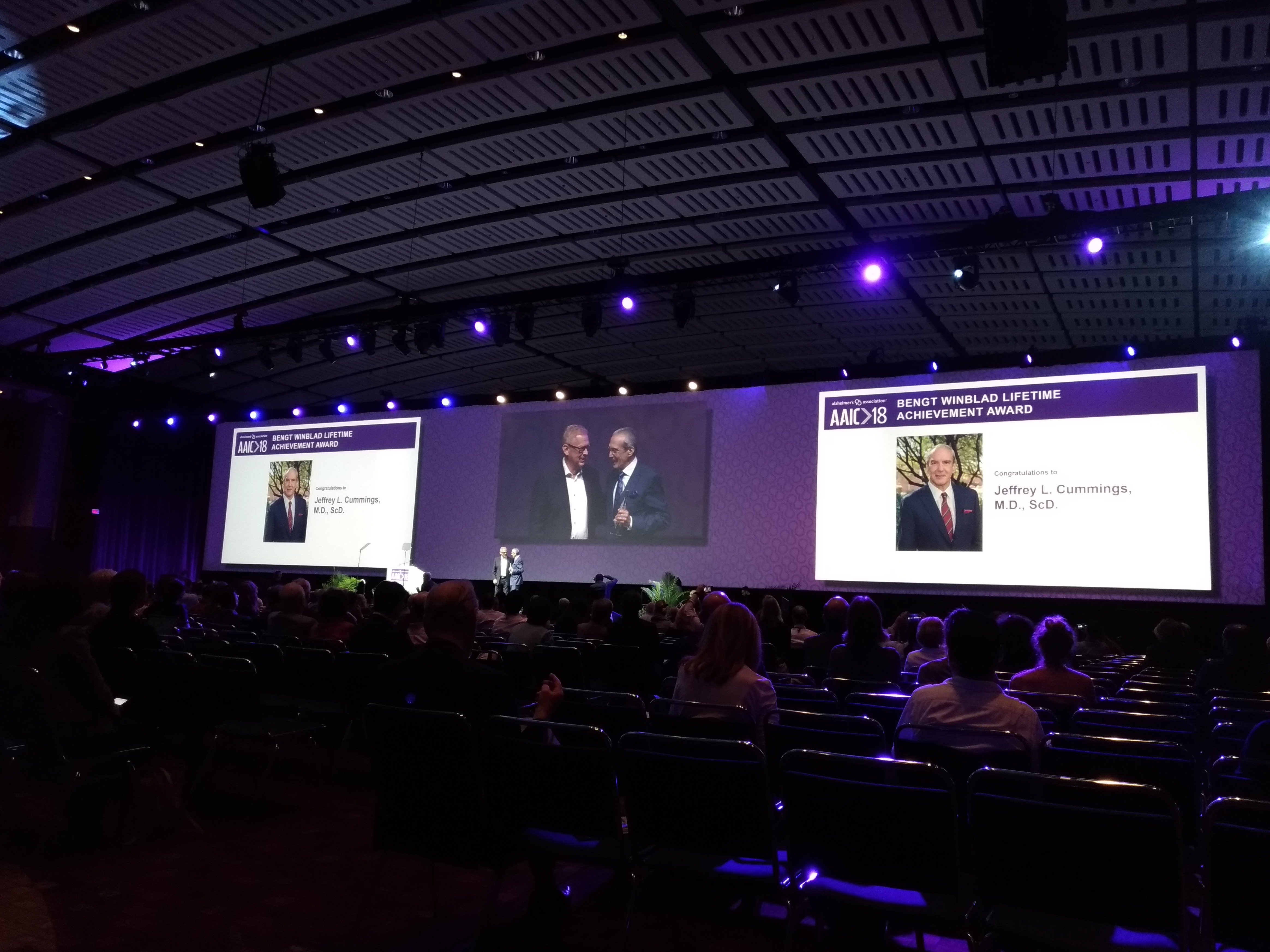 There are two things worthy of mentioning related to IPA members. Prof. Jeff Cummings received a Lifetime Achievement Award, and Prof. Henry Brodaty gave a plenary speech titled "Psychosocial Research in Dementia: Past, Present and Future." Both are long-time IPA members and leaders in the field of dementia research- and we are very proud of them.