IPA Bulletin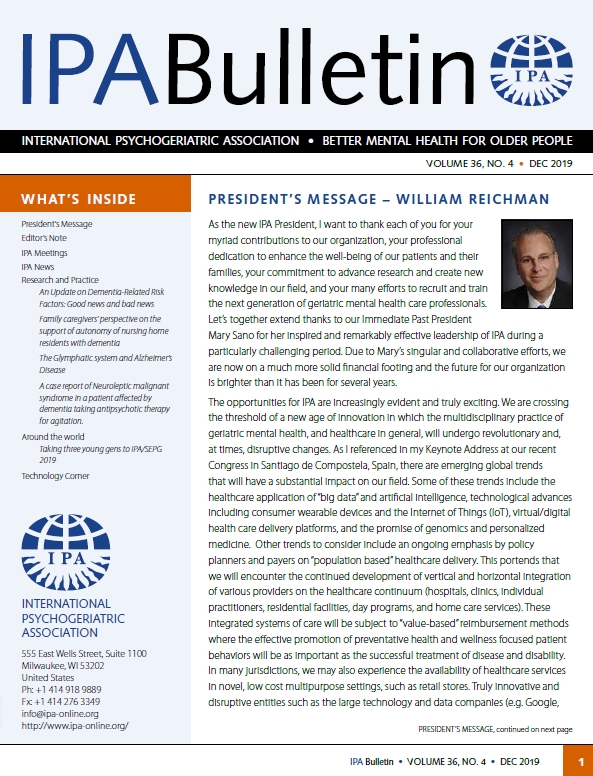 The IPA Bulletin is the official newsletter of the International Psychogeriatric Association (IPA). The IPA Bulletin features articles on developments in psychogeriatrics and related fields, updates about IPA and its programs, and information on the activities of related organizations. You can learn more about the content included in each section of the IPA Bulletin below. All members of IPA receive the IPA Bulletin and back issues are available in the IPA Members Area. Not a member yet? Visit our membership page to learn more about joining IPA.
IPA Bulletin Editor-in-Chief, Dr. Tzung-Jeng Hwang is always interested in new contributors & editors.
Please review the submission guidelines for more information on how to submit an article for the IPA Bulletin.
Research and Practice
The Research and Practice section of the IPA Bulletin features articles about new research and advances in the field. These articles may also highlight challenges facing the field and improvements in various areas of practice. Articles on psychiatry, medicine, nursing, social work, and other related fields are welcome.
Sample articles are featured below:
Successful culturally-adapted and multifaceted cognitive training (Nahathai Wongpakaran) 2021
Benzodiazepines: Challenge and Opportunity (Mark Rapoport) 2019
The Role of Risk in the Acute Care of Older Adults (Gillian Stockwell-Smith) 2018
Examining nursing care practice for people living with dementia (Wendy Moyle) 2014
Around the World
The Around the World section features articles on issues or the field in a specific country or region. We encourage articles which will educate others about the state of psychogeriatrics in your country. Information on the meetings and activities of our IPA Affiliate Associations or other related groups is also included.
Articles include:
Galician Network for Dementia Research (Carlos Spuch) 2018
Suicide Rates in Korea (Guk-Hee Suh) 2017
Behavioral Improvement of Dementia Residents in a Group Home after the Great East Japan Earthquake of 2011 (Kenichi Meguro) May 2014
Technology
The tech industry has changed the world. But how is technology being utilized to transform psychogeriatrics? The Technology section features articles on new technologies, advancements in existing technologies as well as new products impacting seniors, their everyday lives and their mental health. Sample articles are featured below:
Bidet toilets for older adults? (Yung-Jen Yang) 2021
Virtual Reality, Augmented Reality and Mixed Reality in Geriatric Mental Health Care (Yung-Jen Yang) 2019
Focus Adjustable Smart Lenses (Yung-Jen Yang) 2018
Submit an article to the IPA Bulletin!
Please review the submission guidelines and send your article to IPABulletin@ipa-online.org.