IPA Corporate Partner Program
IPA Corporate Partners… Partners for better mental health for older people
To improve and advance the mental health of older people, IPA recognizes that it needs the full involvement and support of the Psychogeriatrics field, not only its membership of academics, clinicians, and researchers, but also its colleagues in the various and diverse industries who are concerned about the wellbeing of older adults.
In 2006, IPA initiated a new approach to industry support of IPA and the field of Psychogeriatrics through creating a special organizational sponsorship program … IPA Corporate Partners. Essentially, the IPA Corporate Partner program is a customized program where IPA and the company design a set of initiatives that meet our common goals and priorities to serve the field of Psychogeriatrics and improve the mental health of older people. This unique relationship enables IPA and industry to leverage their collective expertise to:
Advance IPA's mission of better mental health for older people
Collaborate as partners on educational and research projects that complement industry and IPA common goals and initiatives
Educate the world about Psychogeriatrics and best practice
Support and disseminate the latest research in the field
Foster innovation and new approaches
Communicate the importance of geriatric mental health issues to regulatory and government agencies, governments and their leaders worldwide
IPA would like to extend an invitation to our industry colleagues to be a part of our professional community as an IPA Corporate Partner. Through our mutual commitment, IPA and industry will support the advancement of geriatric mental health while acknowledging our unique roles in this initiative. This relationship will enable IPA and industry to focus on longer-term goals achieving a mutual benefit and advancing mental health for older people.
Corporate Partners can make a critical difference to the scientific and clinical practice of Psychogeriatrics globally. For more information about IPA or becoming an IPA Corporate Partner, contact Kate Filipiak, Executive Director.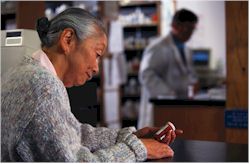 IPA is an international, multidisciplinary professional association committed to improving geriatric mental health throughout the world. Founded in 1982, IPA has approximately 1,000 members from more than 50 countries.
IPA Corporate Partner – Cambridge University Press
Since 2009, Cambridge University Press has enjoyed the special relationship with IPA as provided in the IPA Corporate Partner Program.