World Suicide Prevention Day Message
Dear Colleagues,
2020 has brought us many challenges - with the COVID-19 pandemic front and center. As "social distancing" guidelines and "stay-at-home" orders went into place earlier this year, vulnerable populations such as older adults faced barriers to accessing critical resources as well as social isolation. Many are still struggling.
We know that having a strong sense of connection is an important part of suicide prevention. We all have a responsibility to end the stigma and ensure that older adults receive necessary care and support.
Today, 10 September 2020, IPA joins the International Association for Suicide Prevention (IASP) and the World Health Association (WHO) in raising awareness that suicide can be prevented. According to WHO, only 38 countries currently have a national strategy for preventing suicide. We can do better.
This annual day of recognition focuses the world's attention on the need for all of us to take responsibility in preventing suicide. Please do your part to spread the word about this matter of vital importance.
Founded in 1960, the International Association for Suicide Prevention (IASP) is an international suicide prevention organization. They are co-sponsors of World Suicide Prevention Day on September 10 every year, with the World Health Organization.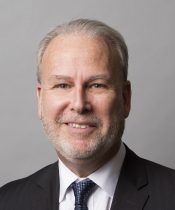 William Reichman, MD
IPA President