International Psychogeriatrics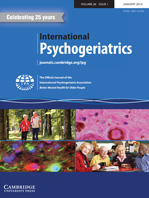 Full Member Access (requires login)
---
In This Issue:
Well-being in dementia: a cross-sectional dyadic study of the impact of multiple dimensions of strain on persons living with dementia and their family care partners
https://doi.org/10.1017/S104161021800203X
Concurrent benzodiazepine use in older adults treated with antidepressants in Asia
https://doi.org/10.1017/S1041610217002563
Beck Depression Inventory-II: Self-report or interview-based administrations show different results in older persons (open access)
https://doi.org/10.1017/S1041610218001187
---
International Psychogeriatrics is the official journal of the International Psychogeriatric Association. It is a multidisciplinary, peer-reviewed journal for researchers, clinicians, and educators in the field of psychogeriatrics. The journal emphasis is on an integrated and broadly encompassing approach to older people, which considers physical and mental health and illness, as well as psychosocial factors and societal perspectives. During the past four years, the journal has increased its frequency from bimonthly to monthly; the 2018 impact factor is 2.48.
The Editor-in-Chief invites submission of original research articles, literature reviews, case reports and letters to the editor. Editorials and book reviews are commissioned directly by the Editor-in-Chief. All articles must be original material, not previously published in English and not currently under consideration for publication elsewhere.
International Psychogeriatrics is published twelve times per year. A subscription is included with each IPA membership. The journal often receives grants and support for special focused supplement issues. IPA members receive these issues at no additional charge.
Instructions for contributors, copies of all published issues as well as some forthcoming articles and additional information about the journal can be found at our Cambridge University Press website:
---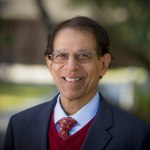 EDITOR-IN-CHIEF
Dilip V. Jeste, M.D.
Senior Associate Dean for Healthy Aging and Senior Care
Estelle and Edgar Levi Chair in Aging
Distinguished Professor of Psychiatry and Neurosciences Director
Sam and Rose Stein Institute for Research on Aging
University of California, San Diego
San Diego, California 92093 US
---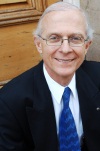 DEPUTY EDITOR
Henry Brodaty
Professor of Ageing and Mental Health
Director of the Dementia Collaborative Research Centre
University of New South Wales
Sydney NSW 2030 Australia
---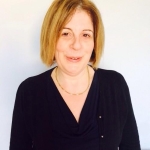 DEPUTY EDITOR
Gill Livingston
Professor of Psychiatry of Older People
Dept of Mental Health Sciences
University College London
London N19 5NL United Kingdom
---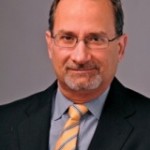 DEPUTY EDITOR
Constantine (Kostas) Lyketsos
Elizabeth Plank Althouse Professor
Johns Hopkins University
5300 Alpha Commons Drive
Baltimore, MD, 21224, US
---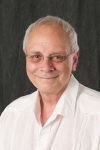 STATISTICAL EDITOR
Stephan Arndt
Professor of Psychiatry and Biostatistics
Department of Psychiatry
Carver College of Medicine
University of Iowa
Iowa City, IA 52242 US
---
MANAGING EDITOR
Kate Filipiak
IPA Executive Director
Email: journal@ipa-online.org
---
PAST EDITORS
Nicola T. Lautenschlager
David Ames
Manfred Bergener
Gene Cohen
Robin Eastwood
Sanford Finkel
Kazuo Hasegawa
Akira Homma