COVID-19 Webinar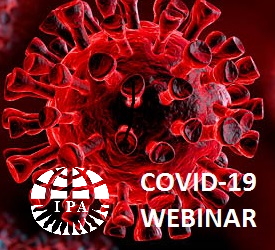 COVID-19, social distancing and its impact on social and mental health of the elderly population
Geriatric providers around the globe are eager and interested to hear firsthand experience from front-liners around the world. IPA has assembled international speakers to share their experiences focusing on geriatric mental health, specifically the impact of social distancing on social health and social functioning of the elderly population.
. REGISTRATION IS NOW CLOSED.
PLEASE CONTACT THE IPA SECRETARIAT FOR QUESTIONS. .
Organizers
Prof. Myrra Vernooij-Dassen, PhD
Radboud University Medical Center
Em. Chair: Psychosocial aspects of care for frail elderly persons
Radboud University Nijmegen Medical Centre, the Netherlands
Chair INTERDEM ((Early detection and timely INTERvention in DEMentia)
Maria I. Lapid, MD
Professor of Psychiatry
Mayo Clinic Department of Psychiatry and Psychology
Rochester, Minnesota, USA
Presented in collaboration with

Advisor
Prof. Frans RJ Verhey, MD, PhD
Prof of Neuropsychiatry and Old Age Psychiatry, Maastricht University Medical Center
Department of Psychiatry & Neuropsychology | School for Mental Health and Neuroscience | Alzheimer Center Limburg
Maastricht, the Netherlands
---
Date: 23 May 2020
Time: 0700-0830 Secretariat Time - Click to see local time(s)
Cost: This is a free webinar, but space may be limited
REGISTRATION IS NOW CLOSED.
PLEASE CLICK HERE TO CONTACT THE IPA SECRETARIAT FOR QUESTIONS. .
---
Program & Presenters
Duration: 90 minutes with Q&A
Moderator
William E. Reichman, MD
IPA President
President, Chief Executive Officer, Baycrest, Toronto, Canada
Professor of Psychiatry, Faculty of Medicine, University of Toronto
Older persons' human rights and the COVID pandemic: are they compatible?
Prof. Carmelle Peisah, MB.BS, MD, FRANZCP
University New South Wales, Kensington; Sydney University
Capacity Australia; Sydney, Australia
Mental Health, Depression, Loneliness, and Suicide from COVID-19
Prof. Diego De Leo, MD, PhD
Australian Institute for Suicide Research and Prevention
National Centre of Excellence in Suicide Prevention
WHO Collaborating Centre for Research and Training in Suicide Prevention Griffith University, Australia
Primorska University, Slovenia
De Leo Fund, Padua, Italy


The risks of social distancing for older persons


Prof. Myrra Vernooij-Dassen, PhD
Radboud University Medical Center
Em. Chair: Psychosocial aspects of care for frail elderly persons
Radboud University Nijmegen Medical Centre, the Netherlands
Chair INTERDEM ((Early detection and timely INTERvention in DEMentia)
---