COVID-19, Social Distancing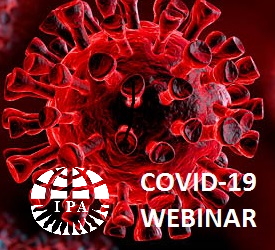 COVID-19, social distancing and its impact on social and mental health of the elderly population
In collaboration with INTERDEM, IPA brought together international speakers to share their experiences focusing on geriatric mental health, specifically the impact of social distancing on social health and social functioning of the elderly population. The result was a live, 90-minute webinar with Q&A moderated by IPA President Dr. William Reichman.
Also included in the program was a video blog (vlog) by front-line care providers in New York City, US. Additional vlogs have been curated from nine members around the globe and are linked below.
Following you will find links to:
Recording of the live program from 23 May 2020
Presenter slides
---
Webinar Program & Presenters - . CLICK TO VIEW FULL WEBINAR .
Moderator
William E. Reichman, MD
IPA President
President, Chief Executive Officer, Baycrest, Toronto, Canada
Professor of Psychiatry, Faculty of Medicine, University of Toronto
Older persons' human rights and the COVID pandemic: are they compatible? (download slide deck here)
Prof. Carmelle Peisah, MB.BS, MD, FRANZCP
University New South Wales, Kensington; Sydney University
Capacity Australia; Sydney, Australia



The risks of social distancing for older persons

(download slide deck here)
Prof. Myrra Vernooij-Dassen, PhD
Radboud University Medical Center
Em. Chair: Psychosocial aspects of care for frail elderly persons
Radboud University Nijmegen Medical Centre, the Netherlands
Chair INTERDEM ((Early detection and timely INTERvention in DEMentia)

Mental Health, Depression, Loneliness, and Suicide from COVID-19 (download slide deck here)
Prof. Diego De Leo, MD, PhD
Australian Institute for Suicide Research and Prevention
National Centre of Excellence in Suicide Prevention
WHO Collaborating Centre for Research and Training in Suicide Prevention Griffith University, Australia
Primorska University, Slovenia
De Leo Fund, Padua, Italy
Vlog Presenters:
All videos are presented in English unless noted otherwise (the length is listed next to the link).
Prof. Dr. Ricardo F. Allegri - CLICK TO WATCH VLOG

(4:33)


Profesor de Neurología, Facultad de Medicina, Universidad de Buenos Aires
Jefe de Neurología Cognitiva, Neuropsiquiatría y Neuropsicología
Centro de Memoria y Envejecimiento
Instituto de Investigaciones Neurológicas FLENI
Argentina
Prof. Shuichi Awata - WATCH VLOG

(4:53)

OR DOWNLOAD TRANSCRIPT
Tokyo Metropolitan Institute of Gerontology
Japan


(Please note Professor Awata's Vlog is in Japanese with his transcript available in English.)

John Brennan - CLICK TO WATCH VLOG

(6:18)


Vice-Chairperson and Director of the Board of the Irish Association of Social Workers
Vice-President of the International Federation of Social Workers' European (IFSW-E) Executive
Ireland
Dr. Alberto Ortiz Corrada (with Dr. Jorge Acevedo Canabal)- CLICK TO WATCH VLOG

(2:05)


University of Puerto Rico
School of Medicine
Puerto Rico
Dr. Brent P. Forester - CLICK TO WATCH VLOG

(4:46)


McLean Hospital; Chief, Center of Excellence in Geriatric Psychiatry
Director, Geriatric Psychiatry Research Program Harvard Medical School
Associate Professor of Psychiatry Partners Health Care
Medical Director, Behavioral Health Integration, Partners Population Health
Medical Director, Evaluation and Research, Partners Population Health
United States

Prof. Dawne Garrett - CLICK TO WATCH VLOG

(4:03)


Professional Lead Care of Older People and Dementia Care at Royal College of Nursing
King's College London
United Kingdom
Dr. Manuela Graziani -WATCH VLOG

(5:30)

OR DOWNLOAD TRANSCRIPT
Responsabile Settore Servizi alla Persona
A.S.P. Valloni Marecchia
Italy


(Please note Dr. Graziani's Vlog is in Italian with her transcript available in English.)

Dr. Mark Joven - CLICK TO WATCH VLOG

(7:15)


Diplomate, American Board of Internal Medicine
Certified in Endocrinology, Diabetes, & Metabolism, Internal Medicine and Geriatric Medicine
Philippines
Dr. Tomás León Rodríguez - CLICK TO WATCH VLOG

(3:44)


Psiquiatra; Unidad de Memoria. Clínica de Memoria y Neuropsiquiatria
Servicio de Neurología
Hospital del Salvador
Chile
Dr. Ellen D Sano (with Karen Miranda) - CLICK TO WATCH VLOG

(5:51)


Assistant Professor Department of Emergency Medicine
Columbia University Irving Medical Center
United States

Karen Miranda (with Dr. Ellen Sano)
Clinical Nurse Manager, Adult Emergency Department
New York Presbyterian, Columbia University Irving Medical Center
United States

---
Organized By:
Prof. Myrra Vernooij-Dassen, PhD
Radboud University Medical Center
Em. Chair: Psychosocial aspects of care for frail elderly persons
Radboud University Nijmegen Medical Centre, the Netherlands
Chair INTERDEM ((Early detection and timely INTERvention in DEMentia)
Maria I. Lapid, MD
Professor of Psychiatry
Mayo Clinic Department of Psychiatry and Psychology
Rochester, Minnesota, USA
Program Advisor:
Prof. Frans RJ Verhey, MD, PhD
Prof of Neuropsychiatry and Old Age Psychiatry, Maastricht University Medical Center
Department of Psychiatry & Neuropsychology | School for Mental Health and Neuroscience | Alzheimer Center Limburg
Maastricht, the Netherlands